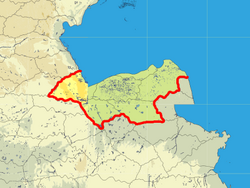 The Scarlet Sea is a marginal sea of the Major Ocean located between West Seneca, Berco Yok and Lake Yorma regions. An epeiric (or "shelf") sea on the Lacertian continental shelf. It is 800 per 800 kilometres (497 mi) long and wide, with an area of around 700,000 square kilometres (435,000 sq mi).
The Scarlet Sea has long been the site of important Lacertian shipping lanes as well as a major fishery. The sea is a popular destination for recreation and tourism in bordering countries.
Geography
The Scarlet Sea is bounded by the South Seneca Islands and south coast of West Seneca to the north, the eastern Lake Yorma to the west and Berco Yok to the west and south. In the southeast, the Scarlet Sea becomes the Centron passage connecting to the Major Ocean.
Around the edges of the Scarlet Sea are sizeable islands and archipelagos, including South Seneca, Shamon Islands and the Southern Atol. The Scarlet Sea receives freshwater from a number of Lacertian continental watersheds. A large part of the Lacertian drainage basin empties into the Scarlet Sea. The largest and most important river flowing into the Scarlet Sea is the Ishim river. Around 250 million people live in the catchment area of the rivers discharging into the Scarlet Sea encompassing some highly industrialized areas.
Extent
The Council of Centau Hydrographic Organization defines the east limits of the Scarlet Sea as follows:
A line joining the Osanko Cape (24.02°S 166.40°E) and the Northern Cape, Townsville, Centron Republic (31.79°S 166.64°E).
Temperature
The average temperature in summer is 21 °C (70 °F) and 13 °C (55 °F) in the winter. Air temperatures in January range on average between 4 to 15 °C in July and in January between 20 to 32 °C.
Name
Through history various names have been used for the Scarlet Sea. One of the earliest recorded names was East Lacertian Sea. The name "Scarlet Sea" came because the former Scarlet Police State.
See also