This article is a stub

. You can help Simcountry by expanding it. You are welcome to give suggestions in the talk page, or even directly editing this page. Please be bold and correct any inexactitude such as typos or bad orthography.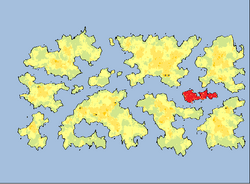 Paova Major its a continent of  White Giant Planet, located between Auriga Bella in the south, Eridana in the North and Antilia Major in the Southeast of the continent.
Geography
Paova Major is the smallest of all continents in White Giant, being about 2/3 of Centura Donna, the second smallest.
Regions
The continent is divided into two regions: Great Hills on the west and and Great Almond on the east.
The Halfway Mountains is the border of the two regions.