Paova Major
Regions
3
Countries
116
Paova Major is one of the continents in the planet of Golden Rainbow.
Location
It is situated in the Western Hemisphere, entirely south of the Equinoctial line, and is surrounded by the Major Ocean to the west and northwest and Virgina Ocean to south and east.
The Southern Tropicus crosses the continent in its central parts.
Regions
The continent can be divided into three great regions (each of which contains many countries):
Karabi est

- (34 countries)

Realmo Labano

- (47 countries)

Santa Rosa

- (35 countries)
Climate
The southern half of Paova Major has a subtropical climate. However, the central and northern portions has a tropical climate, ranging from humid tropical to the Northern Coast. The Central Mountains in the center of the continent has highland climate zone, with cool to cold weather all year around and snowfalls in the winter.
The weather in the south of the continent is generally hot in summer and cool in the winter as the seasons are well-defined in the south. The hottest Paova Major Climate region are the north-east parts, seasons are not well-defined in the north, where summers are hot and can be wet and winters are cooler and drier. The coldest region is the Central Mountains where the snow and frost continues for quite long durations during the winter months
Rainfall varies throughout the continent. The east inlands receives the least, less than 700 mm annually, while the north receives between 1,000 to 2,000 mm of rain.
Physical
The geography of the continent is extremely diverse, ranging from the snow-capped mountains of the Central Mountains and Far West Mountains to large, tropical and temperate forests.
Extreme points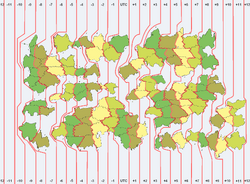 Mainland Paova Major is located within the southern hemisphere and the western hemispheres, running from 101° of longitude west to 147° west and 11° of latitude south to 34° south as its extreme points.
Time Zones
There are two time zones in Paova Major, which currently observe times ranging from UTC-08:00 to UTC-07:00.
List of zones
Since 3374, the time zones are as follows:
UTC
Area covered
UTC-08

Realmo Labano

and

Santa Rosa

regions.
UTC-07

Karabi est

region.