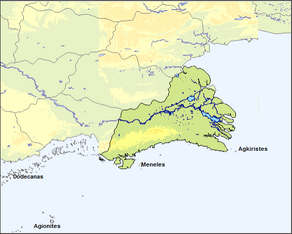 Ruthenia has a large number of islands, with estimates ranging from somewhere around 120 to 600, depending on the minimum size to take into account. The number of inhabited islands is variously cited as between 166 and 227.
The largest Ruthene island by area is Mount Agios, located at the southern edge of the Marmoran Sea. The second largest island is Auboea, just along with Agios by the 60m-wide, and is administered as part of the Kyrie administration. After the third and fourth largest Ruthene Islands, are part of the Dodecanes Archipielago, in the sothwest of the country.
The Ruthene islands are traditionally grouped into the following clusters: Agkiristes Islands in the Agkiras gulf near Auronopolis, the Meneles, a large but dense collection occupying the central part of the Marmoran Sea near Tortossa, the Agionites Islands,, a loose grouping off the North Coast of Mount Agios, the Dodecanese, a large archipielago with numerous and loose islands, islets and rockes that surround the south coast of Thracia, archipielago who shares jurisdiction with the Principality of Olend in the west border of the Empire.
Islands of Ruthenia
Agionites
Auboea
Labbos
Samiros
Lefkodis
Karpethos
Porres
Aegeos
Revythoussa
Omvrassia
Romveo
Patrokleos
Velopoudrasios
Platia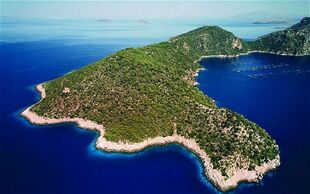 Agkiristes
Agkiros
Piperi
Lykabentos
Sakarino
Glorea Marasti
Meneles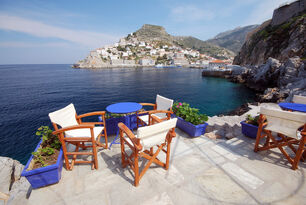 Nisyros
Patmea
Pergoussa
Saranes
Methonea
Teledios
Zofores
Rheo
Mermaras
Kynaros
Dodecanas
The Dodecanesse archipielago 81 total islands of which 26 are inhabited.
Amorgos
Anafi
Andros
Antiparos
Delos
Donoussa
Folegandros
Gyaros
Ios
Iraklia
Kea
Keros
Kimolos
Thirasia

Koufonisia
Kythnos
Makronissos
Milos
Mykonos
Naxos
Paros
Polyaigos
Thera
Schoinoussa
Serifos
Syros
Tinos