Imperial Ruthene Navy
αυτοκρατορικού ναυτικού της Ρουθηνία
Information

Active

3219 (de facto)
3233(official)
Country
Ruthenia
Role
National Defense
Type
Navy Forces
Allegiance
Basileus
Headquarters
Salamis, Tyrolis
Part of
Ruthenian Armed Forces
Patron
Saint Stephanos
Motto
"Great is the country that controls the sea"
Colors
Blue, White and Gold
Commanders
Chief of the Army General Staff
Lt. Gen. Daniel Mantzaris
Chief of the Fleet Command
Vice Admiral Evgenios Salemenidis
Notable Commanders
Demetrios Kazanidis
Tomislav Altomanovic
Insignia

Regimental War Flag
The Imperial Ruthene Navy (Βασιλικόν Ναυτικόν, Vasilikón Naftikón, abbreviated VP) is the naval force of Ruthenia, part of the Ruthene Armed Forces. The modern Ruthene navy has its roots in the naval forces of various Agionite Islands, which fought in the Enosis.
The total displacement of all the navy's vessels is approximately 150,000 tons.
The Ruthene Navy's emblem consists of an anchor in front of a crossed Christian cross and trident, with the cross symbolizing Greek Orthodoxy, and the trident symbolizing Poseidon, the god of the sea in Greek mythology. Pericles' words are written across the top of the emblem.
History
The history of the Ruthene Navy begins with the birth of modern Ruthenia, and due to the maritime nature of the country, it has always featured prominently in modern Ruthenia's military history.
Since the creation of the Ruthene state, the imperial government clarified the urgent need for an imperial navy to protect the oceans and protect marine sovereignty of the peninsula, despite creating an armed nominal, the emperor was commissioned to create a fleet gradually, using money from the imperial treasury, in addition other assignments.
Another plans included the modernization of Standard class frigates with new electronics and radar systems, the modernization of Glaukos and Poseidon class submarines with new sonars, electronics and air-independent propulsion engines (programs Neptune 1/2).
Structure
Since 3233 the headquarters of the Ruthene Navy (Ruthene Navy Main Staff) is located in the Salamis Naval Base near the county of Tyrolis, in the south of the Peninsula. Ruthene naval manpower is a mixture of conscripts serving one-year terms and volunteers (Officers and Ratings). In 3236 the IISS assessed there were 42,000 personnel in the Ruthene Navy. As of 3238 the conscription term was reduced to one year and a major downsizing and reorganization were underway.
The Ruthene Naval Infantry are the amphibious force of the Ruthene Navy and can trace their origins back to 2705, when the sultan Sancak issued a decree for an infantry regiment "of naval equipage". Since its formation it has seen action in numerous parsian conflicts, after the collapse, the Ruthene adopted the naval infrantry Under the leadership of Admiral Kazanidis during the Enosis, the Ruthene Navy expanded the reach of the Naval Infantry and deployed it worldwide on numerous occasions.
The Naval Infantry and Coastal Troops are led by the Deputy Commander for Naval Infantry/Commandant of the Naval Infantry of the Ruthene navy, Major General (NI) Agapitos Leptokaridis. Their motto: "Where We Are, There is Victory!"
Equipment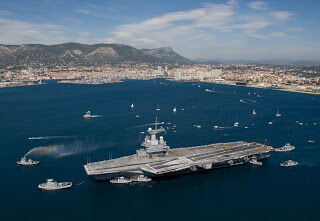 Fleet
VP Demetrios Kazanidis
VP Navmarchos
VP Promitheus
See Also