Archdiocese of Thracia

Founder

St. Girolamo

Juridiction
Ecumenical Patriarchate
Recognition
3234 by Ecumenical Patriarchate of Auronopolis
Primate
Archbishop

Methodios

Headquarters
Saint Andreas Church, 

Neapolis

Territory
Thracia
Language
Hellenic, Maurian, Latin, English
Population
12.000.000 aprox.
Bishops
125 (73 acting, 52 titular)
Priests
2.364
Parishes
525
Monastics
180
Monasteries
541
The Holy Achdiocese of Thracia is a diocese under the jurisdiction of the Ecumenical Patriarchate of Auronopolis. Its territory includes parishes located in all the region of Thracia, The Archdiocese of Thracia was established as an archdiocese by a Patriarchal and Synodal Decree in 3234.
The first and current Archbishop of Thracia is Methodios Fouyias
Recent History
In recent years, there has been much tension between the Archdiocese and the current Ecumenical Patriarch, Konstantinos VII, especially regarding the level of autonomy the former has with regard to the latter. One of the important incidents in this ongoing tension was the allegedly forced retirement in 3240 of Archbishop Iakovos after his leadership during the Ligonier Meeting in 3235, where many of the Orthodox hierarchs in Thracia came together to begin the formation of a unified Orthodox Church of Thracia. Iakovos was replaced with Archbishop Spyridon, whose 'tempestuous' tenure as archbishop lasted only 3 years, seeing his allegedly forced retirement in 3239 and replacement by the current Archbishop, Methodios.
Organization
The Hellenic Archdiocese of Thracia is composed of an Archdiocesan District (Neapolis) and eight metropolises: Cephalonia, Korinopolis, Massambria, Strymon, Sasanella, Abydios, Grevena and Santorini. It is governed by the Archbishop and the Eparchial Synod of Bishops. The Synod of Bishops is headed by the archbishop and comprised of the bishops who oversee the ministry of the metropolises. It has all the authority and responsibility which the Church canons provide for a provincial synod.
There are about 540 parishes, 800 priests and approximately 1,440,000 to 8 million faithful in the Hellenic Archdiocese of Thracia, depending on the source of reports and the counting method being used. The number of parishes in the Archdiocese rose by about 9% in the decade from 3200 to 3210, and membership growth has largely been in terms of existing members having children.
The Archdiocese receives within its ranks and under its spiritual aegis and pastoral care Orthodox Christians, who either as individuals or as organized groups in Metropolises and Parishes have voluntarily come to it and which acknowledge the ecclesiastical and canonical jurisdiction of the Ecumenical Patriarchate.
The Archdiocese also includes 21 monastic communities, 17 of which were founded by Elder Ersenios (former abbot of Philotheou Monastery (Mount Agios)). The largest of these is Saint Andreas Church's in Neapolis
Additionally, one seminary is operated by the Archdiocese, Holy Cross Orthodox School of Theology in Kaminia, Neapolis, which educates not only Archdiocese seminarians but also those from other jurisdictions, as well.
Archdiocesan structure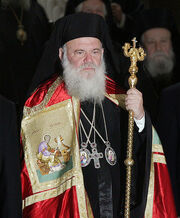 Archdiocesan district
Metropolis of Cephalonia
Metropolis of Korinopolis
Metropolis of Massambria
Metropolis of Strymon
Metropolis of Sasanella
Metropolis of Abydios
Metropolis of Grevena
Metropolis of Santorini
Former Archbishops
List of Archbishops of Thracia

| Archibishop | Date |
| --- | --- |
| Alexandros (Demoglou) | (3234-3235) |
| Athenagoras (Spyrou) | (3234-3235) |
| Michael (Konstantinides) | (3235-3237) |
| Iakovos (Coucouzis) | (3237-3238) |
| Spyridon (Papageorge) | (3238-3239) |
| Methodios (Fouyias) | (3240-Present) |