The following page is under construction.

Please do not edit or alter this article in any way while this template is active. All unauthorized edits may be reverted on the admin's discretion.
The Holy Archdiocese of Mundari is the seat of The Church of Mandarr, sometimes called the Mandarran Apostolic Church or the Mandarran Orthodox Church is the first Orthodox church in Kebir Blue. It separated from the Ecumenical Patriarchate of Auronopolis but maintains sovereignity and symbolical leadership from the Patriarchate. Liturgically, the Church has much in common with the Orthodox Church. For example, their bishops wear vestments almost identical to those of Ruthene bishops, their Archdiocese was consagrated by the Patriarch of Auronopolis Konstantinos VII in 3269 (WG) after a faith recognition in the region and the autorization of the Viceroy of Mandarr in Mundari, in the south of the Mandarran region.
History
Structure and Leadership
The Archbishop of Mundari is considered the central autority of all the Orthodox population in Mundari and all the The Republic of Mandarr orthodox population and Mandarran communities worldwide. The Archbisop represents the centralised authority of the Mandarran Church. He is the supreme judge and the head of the legislative body. He is President of the Supreme Spiritual Council as well as the College of Bishops. Ordination of bishops, blessing of Holy Chrism, proclamation of feasts, invitation and dismissal of National-ecclesiastical assemblies, issuing decrees concerning the administration of the Mandarran Church and establishing dioceses are part of his responsibilities.
Both clergy and lay are involved in the administrative structure of the Church. Led by Ignatios, the spiritual and administrative work of the Mandarran Church is carried out in the Republic of Mandarr in the areas of religion, preparation of clergy, Orthodox education, construction of new churches, social services, and ecumenical activities. Underneath this administrative structure are the hierarchical sees:
Metropolitan of Berbengrad
Metropolitan of Morro
Metropolitan of Kellenov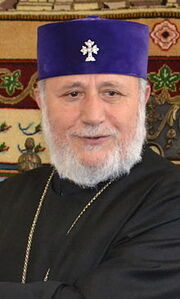 The hierarch of the Mandarran Church is the Archbishop of Mundari. The current Archbishop is Ignatios, who resides at the Holy See of Echmiadzin, west of Mundari. However, a minority of the church outside Mandarr is under the jurisdiction of the Ecumenical Patriarchate of Auronopolis, who resides in other regions of Mandarr, as a result of a dispute that emerged while Mandarr was under Communist rule.
In addition to the responsibilities of overseeing their respective Dioceses, each hierarchical See, and the Mother See of Holy Etchmiadzin, has a Monastic Brotherhood.
Former Archbishops
List of Archbishops of Mundari

| Archibishop | Date |
| --- | --- |
| Ignatios (Aristolou) | (3269-Present) |