Conducted by the People's Republic of Rezalan between in early 3060, the 3060 census is a collection of data compiled on all member states of the Soviet Federation. The information below is approximated. The total population for the federation exceeds 638 150 000 up 1.4 per cent per annum from 593 600 000 in 3053
Statistics
Empires
| | | | | | | |
| --- | --- | --- | --- | --- | --- | --- |
| State | Level | Population | Finance | Trend | Rank | Votes |
| UAR | 4 | 101.25 M | 135 | Stable | 35 | 27 |
| | | | | | | |
| --- | --- | --- | --- | --- | --- | --- |
| State | Level | Population | Finance | Trend | Rank | Votes |
| USE | 4 | 92.71 M | 156 | Stable | 19 | 23 |
| | | | | | | |
| --- | --- | --- | --- | --- | --- | --- |
| State | Level | Population | Finance | Trend | Rank | Votes |
| USSA | 4 | 33.78 M | N/A | Stable | 37 | 21 |
| | | | | | | |
| --- | --- | --- | --- | --- | --- | --- |
| State | Level | Population | Finance | Trend | Rank | Votes |
| AE | 5 | 180.25 M | N/A | Stable | 14 | 30 |
| | | | | | | |
| --- | --- | --- | --- | --- | --- | --- |
| State | Level | Population | Finance | Trend | Rank | Votes |
| FSE | 4 | 30.68 M | 137 | Stable | 98 | 19 |
Independent States
| | | | | | | |
| --- | --- | --- | --- | --- | --- | --- |
| State | Level | Population | Finance | Trend | Rank | Votes |
| DRD | 3 | 16.75 M | 151 | Positive | 115 | 13 |
| PRR | 1 | 16.00 M | 140 | Positive | 556 | 10 |
| RK | 1 | 16.44 M | 126 | Positive | 970 | 10 |
| SUF | 3 | 20.00 M | 148 | Positive | 100 | 16 |
| DRP | 3 | 18.96 M | 151 | Positive | 120 | 13 |
| GG | 2 | 22.62 M | 152 | Positive | 198 | 16 |
| SSC | 7 | 50.71 M | 135 | Stable | 12 | 18 |
| SRW | 3 | 14.76 M | 131 | Stable | 166 | 13 |
| SIN | 3 | 13.47 M | 153 | Stable | 77 | 13 |
| EB | 1 | 10.61 M | 151 | Negative | 255 | 10 |
| CE | 1 | 13.52 M | 141 | Stable | 605 | 10 |
| | | |
| --- | --- | --- |
| Total Empire Population | Total Independent State Population | Total Population |
| 432.52 M | 205.63 M | 638 150 000 |
| 67 per cent | 33 per cent | 100 per cent |
Analysis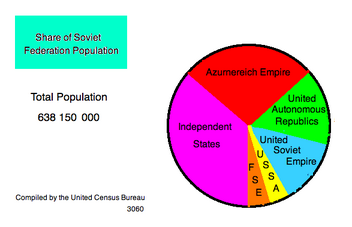 From 3053 to 3060 the population of the federation grew by about 40 million. However, the population share remained virtually unchanged, with growth quite consistent across the federation, with the notable exception of the United Autonomous Republics growth of nearly 10 million in seven years.
With respect to the economy, all members had finance indexes in excess of 125 per cent. All economies are becoming remarkably sustainable, but this is the first census by Rezalan which did not focus on gaps. As such, this does not give as full a picture of the structure of institutions in society. All members are encouraged to read more into their own respective economies to figure out what needs to be addressed (or working in collaboration with the Finance Executive).
Lastly, this is the first census that will be used to provide information to the Centre for Governance. Statistical data will be used to give a certain amout of votes to the population. According to this system, the number of votes for all elections conducted during this period will total 132 for independent states and 120 for the empires, totally an impressive 152 votes.